With all this holiday baking of cookies and cakes, it's not surprising that my body was screaming for something other than sugar. I mean, even though I am a self-proclaimed sugar addict, I got to draw the line somewhere. Or else my pants will pop and nobody wants to see explode out of my skinny jeans. Seriously, not cute.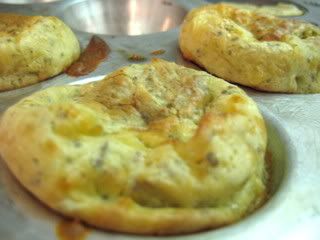 Anyways, I had some leftover cheese and had bookmarked this recipe so voila! I whipped these Parmesan popovers in an instant with my new love, the food processor. Safe to say, Giada hasn't let me down yet.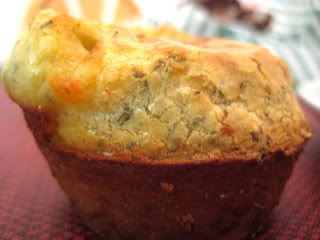 The popovers were perfect fresh out of the oven, all puffed up and glorious.They reminded me of little cheese clouds.
Sinking your teeth into the cheese in the middle is what makes these popovers so delicious. I like the addition of the herbs de provence; it blends well with the parmesan. I didn't have fresh parsley so I traded it for some dried rosemary and wow. The rosemary was a great addition. Fragrant and earthy, it makes your kitchen smell an Italian restaurant. And the popovers last for a couple of days too.
It was the perfect side dish in between my baking bouts. Cheese is always a great alternative to sugar. Only sometimes though :)
Parmesan Popovers
from Giada de Laurentiis
Ingredients:
3 eggs 

3/4 cups all-purpose flour 

1/4 teaspoon salt

1/2 teaspoon freshly ground black pepper

1/2 teaspoon herbs de Provence

4 tablespoons chopped parsley leaves


1 cup whole milk 

3/4 cup grated Parmesan (about 5 ounces)
Directions:
1. Preheat the oven to 400 degrees F.
2. In a blender, combine eggs, flour, salt, pepper, and herbs, milk, and cheese. Blend on medium speed.
3. Spray a muffin pan with nonstick cooking spray. Pour the batter into the muffin cups, filling each cup 3/4 full. Bake until puffed and golden brown, about 20 to 25 minutes. 4. Remove popovers from muffin tin and cool on a wire rack. Save in a storage container.