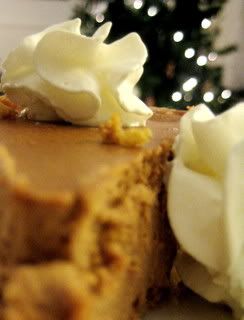 Cheesecake is the ultimate holiday dessert. Rich and creamy, it isn't too sweet and is meant to be savored with every bite. Normally, store-bought or commercially prepared cheesecakes can be over the top, and you lose a lot of flavor due to the excess sugar or adornments. I look forward to homemade cheesecakes for this reason. Thumbing through my favorite baking book, I saw multiple delicious recipes for cheesecakes but couldn't decide.
Did I want a tall, massive cheesecake? Should it just be an original cheesecake? What kind of crust? Decisions, decisions, decisions. After spending the past few weeks baking up a storm, I wanted a somewhat easy and stress-free dessert. Just something to top of the holiday.
I knew that I wanted chocolate because anything made with chocolate can do no wrong, right? I tend to be very indecisive so it took me a while to settle on one recipe but after reading the simple and fuss free ingredients for this low and lush chocolate cheesecake, I knew I had a winner.
Even though I don't have a springform pan which helps assemble the cake, I used the next best thing: a pyrex glass pan. It was a little hard to get that first clean slice out of the cheesecake, but it did the job for me. One of my main concerns here was a cracked top, but I managed to escape that by placing the cheesecake in a roasting pan filled with hot boiling water.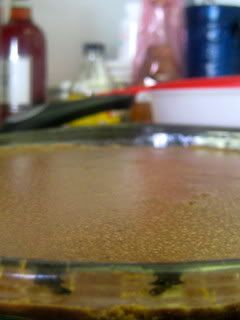 No crack here, ladies & gents! That water bath was completely helpful here. The recipe didn't call for it, but I knew from reading other recipes that the water bath allows the cheesecake to cook evenly. Without it, the heat is too much in the oven and they can crack under pressure.
Since I have never baked a cheesecake, I was a little nervous assembling the cake, but the cake is so easy to put together. In fact, it was much easier than most things I have baked. I did make some alterations to this recipe though. I added some Italian hazelnut liqueur, Frangelico, because I believe chocolate and liqueur goes perfectly together. I also made an almond crust since I had left over sliced almonds that needed to be used up.
All in all, this dish was a complete success. This Chocolate and Hazelnut cheesecake was a beauty, and I am totally not ashamed to admit that I had more than a couple of slices. This dessert is perfect for any occasion, and can be made ahead of time since it's supposed to cool in the fridge.But next time, I would add more chocolate because I'm a chocoholic. I also would add more Frangelico because I only added a teeny amount to the batter, afraid that it would overpower the cake. I could taste just a hint of the liqueur but more of it would've given the cake more flavor. Now, off the gym…
Chocolate & Hazelnut Cheesecake
adapted from Baking: From my home to yours
Ingredients:
For the crust:
1 and 1/2 graham cracker crumbs
2 tablespoons of sugar
1/4 teaspoon ground cinnamon
3 tablespoons unsalted butter, melted
1/2 cup toasted sliced almonds
For the filling:
1 and 1/2 pounds (3 8-ounce packages) cream cheese, room temperature
1/2 cup sugar
3 large eggs, room temperature
1 teaspoon vanilla extract
3 tablespoons of Frangelico liqueur (optional)
pinch of salt
4 ounces bittersweet chocolate, melted and slightly cooled
Directions:
1. Preheat oven to 350 degrees. Butter an 8 1/2 or 9 1/2 springform pan (I used a pyrex pan).
2. For the crust: Toast almonds in the oven, until slightly colored. Toss almonds in the food processor and grind till finely crumbled. Add crumbs, sugar, and cinnamon together in the processor and pulse till mixed. Pour melted butter and pulse till all combined. Turn the crumbs into the pan and, with your fingers, press the crumbs evenly over the bottom of the pan and as far up the sides as they go. Freeze the crust for about 10 minutes. Bake the crust for 10 minutes, only until the crust is lightly set and just tinged with color. Cool on a rack or refrigerate while you make the filling.
3. For the filling: Cut each bar of cream cheese into quarters and toss the pieces into the food processor, along with the sugar. Process, scraping down the bowl 2 or 3 times for a full 2 minutes. You'll see how dramatically the cream cheese changes; it will look like white velvet at the end of its beating. Add the eggs, vanilla, and salt, giving the batter 4 longish pulses, then scrape down the bowl and pulse for 2 more minutes. Pour the chocolate and pulse and scrape a few times to blend the batter well.
4. Remove the bowl from the processor and rap it hard on the counter a couple of times to de-bubble the batter. Get crust and scrape the batter into the cooled crust.
5. Prepare the water bath by boiling water. Place cheesecake in a roasting pan or baking dish that's big enough, and pour water into the pan, until the water reaches the sides of the cheesecake.
6. Bake the cheesecake for 35-40 minutes if you are using a 9-inch pan or 45-50 if you are using an 8 1/2 pan. (Since I used the water bath, I baked mine for about 45 to 50 minutes). The top should be puffed and set, but if you tap the pan gently, the center of the cake will still be slightly shaky- that's just fine. Transfer the pan to a cooling rack and allow the cheesecake to cool to room temperature, then refrigerate for at least 8 hours or for up to 3 days.
7. To remove: Run a blunt knife between the crust and sides of pan then open and remove the sides of the springform pan.
8. Wrapped well, the cheesecake will keep in the fridge for up to 3 days. It can be frozen for up to 2 months; defrost, still wrapped overnight in the fridge.