When my mom asked me to bake her something for an office potluck, I got so excited. Whenever she has these potlucks, I get to test out new recipes and play with different ingredients. There isn't so much pressure to make it perfect because, let's face it, these cubicle dwellers love any kind of baked good.
Although I was lucky enough to get Sticky Chewy Messy Gooey by Jill O'Connor, I turned to my trusty favorite Baking: from my home to yours. I'd been eyeing this brown sugar bundt cake. It sounded so tasty, with the combination of tons of brown sugar and dried fruit. And of course, the directions looked easy as pie… or cake.. whatever.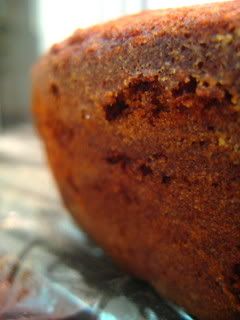 I adapted this recipe to work with what I had in my kitchen, since my bank account has been depleted and my trips to the grocery store have been cut down due to the holidays. I didn't have buttermilk, but I used whole milk instead. There were no pears either, and I had no substitutions so I just skipped that. For added color to the cake, I used dried cranberries and added some spice (nutmeg & cinnamon). Lastly, unlike the original recipe which used walnuts and almond extract, I didn't use any nuts in case someone had peanut allergies. I should've put another 1/4 of flour in the cake to make up for the lack of nuts, but I forgot.
After 30 minutes in the oven, my kitchen started to smell glorious, a mix between cinnamon and sugar which is the best ever. But my cake started to brown at the halfway mark so I covered it with a tent so it would stop browning. While this cake is delicious fresh out of the oven, I recommend wrapping it up and letting it sit overnight so the flavors can better develop.
The cake turned out a little dry to my liking, even though I cut out 1/4 cup of flour. Next time I'd use the requested buttermilk or even sour cream as opposed to the whole milk. The cranberries mixed in with the spice and brown sugar worked well together, each complementing each other's flavors.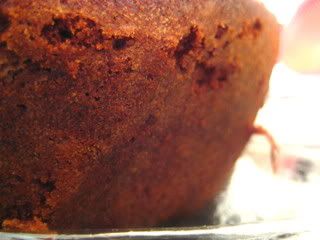 Even though I thought the cake was a teeny bit dry, I loved the use of brown sugar. The brown sugar gave the cake a wonderful texture, and blended well with the spices. In fact, I prefer brown sugar to granulated sugar in most baked goods because it isn't as ridiculously sweet as the latter. Everyone at the potluck loved it, and many begged for the recipe which I dutifully printed out. I must spread the wealth, right?
Cranberry brown sugar cake
adapted from Baking: from my home to yours
Ingredients:
2 and 1/4 cups all purpose flour
1 teaspoon baking powder
1/2 teaspoon baking soda
1/4 teaspoon salt
1 teaspoon cinnamon
1/2 teaspoon nutmeg
2 sticks (8 ounces) unsalted butter, room temperature
2 cups light brown sugar
3 large eggs
1 and 1/2 teaspoon pure vanilla extract
1 cup whole milk
1 cup dried cranberries
confectioners sugar for dusting (optional)
Directions:
1. Preheat the oven to 350 degrees. Butter a 9 to 10 inch Bundt pan, dust the inside with flour and tap out the excess. Don't place the pan on a baking sheet- you want the oven's heat to circumvent through the Bundt's inner tube.
2. Whisk together the flour, baking powder, salt, baking soda, nutmeg, and cinnamon.
3. Beat the butter and sugar together at a medium speed until light and fluffy, about 3 minutes. Add the eggs one at a time, beating for 1 minute after each addition. Beat in the vanilla. Reduce the speed to low and add the flour mixture and the milk alternately- add the flour in 3 additions and the milk in 2 (begin and end with the dry ingredients). Mix only until the ingredients are incorporated and scrape down the bowl as needed. With a spatula, stir in the cranberries. Scrape the batter into the pan and smooth the top with the spatula.
4. Bake for 60 to 65 minutes or until a thin knife inserted deep into the center of the cake comes out clean. If the cake browns too much, cover the top loosely with foil. Transfer the cake to a rack and cool for 10 minutes before unmolding, then cool to room temperature. Cake will keep for 5 days if wrapped well and at room temperature and can be frozen for up to 2 months; defrost still wrapped.