After eating the delicious Challah bread on Thanksgiving, I have been dying to attempt to make braided egg bread on my own. But to be completely honest, I've never baked bread before. Ever. It seems too intimidating, especially when you don't have a bread machine. I've always thought it was too hard, too trying, too much. But boy, was I wrong. Half the time you are waiting for the bread to rise, and the other half you just throw the sucker in the oven. Easy as pie… Actually, easier than pie :)
I scoured the internet for a recipe, and everyone has their own version of making egg bread or Challah bread. I was going to use Ari's take on Challah bread over at Baking and Books, but I decided to try out my Better Homes and Garden cookbook. It seemed more plain, but definitely easier. They actually call this bread an Egg braided bread instead of Challah but oh well, close enough.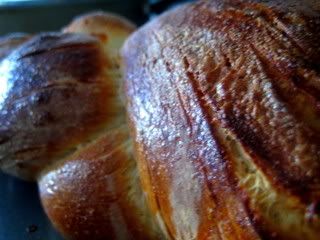 My bread turned out beautiful, despite the fact that the whole time, I thought the bread hadn't risen. I feared that I might've killed the yeast by heating the milk too much, but everything turned out ok.
Is it just me, or is this bread just so gorgeous? It's something about the bread's curves. If bread can be seductive, this would be it.
Braided Egg Bread or Challah Bread- makes 2 loaves
From Better Homes & Garden cookbook
Ingredients:
4 and ¾ to 5 and ¼ cups all purpose flour
1 package active dry yeast
1 and 1/3 cups milk
3 tablespoons sugar
3 tablespoons butter
½ teaspoon salt
2 eggs
To make the challah variation: substitute 1 and ¼ cups water for the milk and pareve margarine for butter.
Directions:
In a large mixing bowl stir together 2 cups of the flour and the yeast; set aside. In a medium saucepan heat and stir milk, sugar, butter, and salt just until warm (120 degrees to 130 degrees Fahrenheit) and butter almost melts. Add milk mixture to flour mixture. Add eggs into mixture. Beat on low to medium speed for 30 seconds, scraping sides of bowl constantly. Beat on high for 3 minutes. Using a wooden spoon, stir in as much of the remaining flour as you can.
Turn the dough out onto a lightly floured surface. Knead in enough of the remaining flour to make a moderately stiff dough that is smooth and elastic (6 to 8 minutes). Shape dough into a ball. Place in a lightly greased bowl, turning once to grease surface of dough. Cover; let rise in a warm, draft-free place until double in size, about an hour or so.
You can tell if the bread has risen by pressing two fingers into the dough. Remove your fingers; if indentations remain, then it is ready. Punch dough down. Turn out onto a lightly floured surface. Divide the dough into thirds. Cover, and let rest for 10 minutes. Roll each third into an 18-inch rope. Place ropes on a large baking sheet 1 inch apart and braid. Cover: let rise until nearly double (about 30 minutes). Brush braid with 1 beaten egg yolk and sprinkle with 2 teaspoons poppy seeds.
Bake in a 375 degrees for 25 to 30 minutes or until bread sounds hollow when lightly tapped. You might have to cover loosely with foil the last 10 minutes of baking to prevent over-baking. Immediately remove bread from pan and cool on a wire rack. Wrapped well at room temperature, the bread will last for two days or so.