What's a girl supposed to do with a big chunk of leftover egg bread? Duh, make french toast! For some reason, whenever I think of this dish, I immediately think that I am living in the lap of luxury. It's something about the soaked bread swimming in pools of maple syrup…
You get my drift, right? I love this buttery and sweet breakfast treat. Plus, it's super easy and quick, which is a requirement for me, especially in the morning when the coffee hasn't perked me up yet. I decided that the best way to celebrate Christmas morning was with a big helping of rich french toast drench in raspberry maple syrup. Needless to say, it was the best part of my Christmas morning.
In the past I normally use whatever bread I can find lying around. This time, I purposely saved some thick slices of my egg bread and it literally blew me away. The thick, rich bread was made to be used in french toast. One tip that I think will make your french toast ten times better is to soak your egg bread slices in the egg batter for at least 5 to 10 minutes, longer if you can and flip the slices halfway through so each slice can properly soak up the flavor.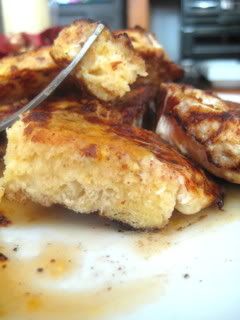 I basically conjured up this dish without any recipe as I am well aware of how to prep this breakfast dish, but I found this recipe from the Food Network that mimics what I did. I added a teaspoon of vanilla and almond extract which seemed to enhance the flavor as well but you can play around with recipe to suit your desires.
Challah French Toast
from The Barefoot Contessa

Ingredients:
6 extra-large eggs
1 1/2 cups half-and-half or milk (I used whole milk)
1 teaspoon grated orange zest
1/2 teaspoon pure vanilla extract
1 tablespoon good honey
1/2 teaspoon kosher salt
1 large loaf challah or brioche bread
Unsalted butter
Vegetable oil
To serve:
Pure maple syrup
Good raspberry preserves (optional)
Sifted confectioners' sugar (optional
Directions:
1. Preheat the oven to 250 degrees F.
2. In a large shallow bowl, whisk together the eggs, half-and-half, orange zest, vanilla, honey, and salt. Slice the challah in 3/4-inch thick slices. Soak as many slices in the egg mixture as possible for 5 minutes, turning once.
3. Heat 1 tablespoon butter and 1 tablespoon oil in a very large saute pan over medium heat. Add the soaked bread and cook for 2 to 3 minutes on each side, until nicely browned. Place the cooked French toast on a sheet pan and keep it warm in the oven. Fry the remaining soaked bread slices, adding butter and oil as needed, until it's all cooked. Serve hot with maple syrup, raspberry preserves, and/or confectioners' sugar.