I don't know what I did to this batch of cranberry biscotti, but something was definitely up. They were more cookie like than biscotti like, if that makes sense. Don't get me wrong, they were tasty and eaten in a flash, but they were troublesome nonetheless. It wasn't the recipe; it must've been something I did. Too much butter, not enough nuts, etc. All due to the fact that I made one too many alterations…

I thought that I had a bag of almonds in my fridge, but they disappeared so I used walnuts instead. And I didn't have almond extract so I used vanilla extract which made them pretty sweet.
Everything was going okay until the biscotti went into the oven. I placed them too close together and they ended up merging into one big sheet, instead of two separate logs.
Logs before.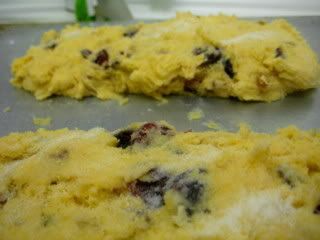 Logs after first baking round. Yup, flat as a pancake.
I ended up having to cut the sheet in half, just so I could move the damn things. The middle part of the biscotti sheet (as I will now call it) didn't cook thoroughly and was a little mushy.
I thought that the second round of baking would dry them out, but I was wrong. What I should've done in the first round of baking was increase the baking time to make sure that the insides cooked, but I assumed that the biscotti would bake again thoroughly in the second round. But they didn't do that. And they also didn't rise much, which made me wonder about how effective my baking powder is.
Cutting the biscotti was a pain in the butt too since they were mushy inside. I let them cool for a while before I started slicing into them and then threw them back in the oven. What seemed like ages later, they popped out of the oven, still mushy. But I didn't want to bake them longer for fear that some of them would burn, so I allowed them to cool. Once they cooled, they firmed up a bit thankfully.
Despite all the problems, the biscotti turned out delicious. My mom exclaimed that they were the best things I had baked in a while (which I tried not to take offense to) but I think I will try this recipe again to see if they turn out better.
Cranberry Walnut Biscotti (makes about 20 to 30 cookies)
adapted from Baking: from my home to yours
Ingredients:
1 1/2 cups all purpose flour
1/2 cup cornmeal
1 and 1/2 teaspoon baking powder
1/4 teaspoon salt
1 stick unsalted butter, room temperature
1 cup sugar
2 large eggs
1 1/2 teaspoons vanilla extract (original used almond extract)
3/4 cup chopped walnuts (original used almonds)
2/3 cup dried cranberries (you can use other dried fruits)
Directions:
1. Preheat oven to 350 degrees and line a baking sheet with parchment paper or spray with cooking spray.
2. Whisk flour, baking powder, salt, and cornmeal together.
3. Beat butter and sugar together at medium speed for 3 minutes until very smooth. Add the eggs and continue to beat, scraping down the bowl as needed, for another 2 minutes or until the mixture is light, smooth and creamy. Beat in the vanilla extract. Reduce mixer speed to low and add the dry ingredients, mixing only until they are incorporated. You'll have a soft stick-to-your-fingers dough that will ball up around the beaters. Scrape down the paddle and bowl, toss in the nuts and mix just to blend. Add cranberries to dough.
4. Scrape half the sough onto one side of the baking sheet. Using your fingers and a rubber spatula or scraper, work the dough into a log about 12 inches long and 1 and 1/2 inches wide. The log will be more recanular than domed and bumpy, rough and uneven. Form a second log with the remaining dough on the other side of the baking sheet.
5. Bake for 15 minutes or until the logs are lightly golden but still soft and springy to the touch. Transfer the baking sheet to a rack and cool the logs on the baking sheet for 30 minutes. If you turned off the oven, bring it back to 350 degrees.
6. Using a wide metal spatula, transfer the logs to a cutting board and with a long serrated knife, trim the ends and cut the logs into a 3/4 inch thick slices. Return the slices to the baking sheet- this time standing them up like a marching band- and slide the sheet back into the oven.
7. Bake the biscotti for another 15 minutes or until they are golden and firm. Transfer them to racks and cool to room temperature. Wrapped well, the biscotti will keep at room temperature for about a week.