I will confess, I am not a morning person. Sure I am an early riser, but that doesn't mean that I am a happy camper. If I had my way, nobody would try to converse with me until noon, because I normally don't perk up until 11 or 12. Till the coffee is pumping in my veins, I am one big grouch. But in my experience, the promise of baked goods can toss any bad moon out the window.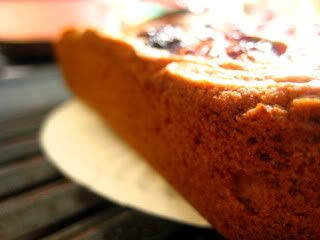 This brown sugar coffee cake topped with cranberries promises to bring out that happy camper in all of us, even the worst grouch in the world like me. I've been playing around with brown sugar a lot, using it in almost everything I've baked cake-wise mainly because I prefer its complex flavor in comparison to plain granulated sugar.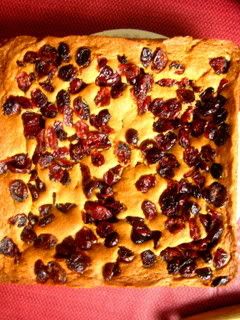 This cake was originally called a dimply cake due to the way the batter rises over the plum topping. I didn't have plums on hand so I tried dried fruit instead. It didn't turn out as well as I had hoped since the cranberries were scattered over the top instead of carefully placed as the directions instructed but the cake still had a slight dimply texture that makes it appetizing to eye as well as the taste buds.Next time I will use fresh or frozen berries so they can sink in the batter, the way they were supposed to.
I suppose I could've just thrown the dried cranberries inside of the cake, but it would've made the cake ten times harder to cut, and I like the cranberry layer on top. We do eat with our eyes, right?
Tangy and moist, the cake will please many palates. I enjoy the combination of brown sugar and cranberries because I think they both complement each others flavors, but you can use a wide variety of fruits like apricots, pears, or plums, as that was the fruit that was originally intended to be used. But the cake is extremely versatile so pick your pleasure.
It's also a bit figure friendly, for all your healthy eaters. It only uses 5 tablespoons of butter and incorporates some healthy canola oil. So go ahead and indulge. And if you want to see how the cake is supposed to be with the plums, check out the recipe on my favorite blog, The Wednesday Chef.
Dimply Plum (or Cranberry) Cake- makes 8 servings
Adapted from Baking: from my home to yours
Ingredients:
1 1/2 cups all purpose four
2 teaspoons baking powder
1/4 teaspoon salt
1/4 teaspoon ground cardamom
5 tablespoons unsalted butter
3/4 cup packed light brown sugar
2 large eggs
1/3 cup canola oil
Grated zest of one lemon (I left this out, by accident, mostly)
1 1/2 teaspoons pure vanilla extract
8 purple or red plums, halved and pitted (I used 1 and 1/2 cups of dried cranberries)
Directions:
1. Preheat the oven to 350F. Butter an 8×8 baking dish or a glass pie plate and set aside.
2. Combine the flour, baking powder, salt and ground cardamom.
3. In a stand mixer, cream the butter with the brown sugar. Add the eggs, one at a time, beating well after each addition. Beat in the oil, lemon zest and vanilla. Reduce the speed and add the flour mixture. Pour the batter in the prepared dish, smooth the top and arrange the plums on top, cut side up.
4. Bake for about 40 minutes or until a knife inserted in the middle comes out clean. Let cool for at least 15 minutes before serving.