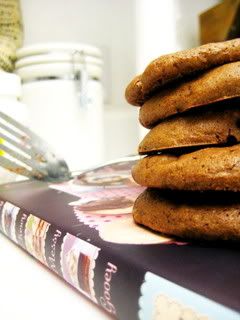 Thank god for Jill O'Connor and her book, Sticky Chewy Messy Gooey. Every recipe in that book is full of mouthwatering outrageous and over-the-top treats that are bound to spike your blood sugar through the roof. My sweet tooth just aches flipping through this book. From heart of darkness brownies to chocolate cream cheese pound cakes, Jill O'Connor sticks to her motto that this book is full of "desserts for the serious sweet tooth".
Although I received this book for Christmas, I purposely waited to inaugurate my kitchen with any of these recipes for one important reason: my waistline. After indulging one too many times throughout the holidays, my pants were begging for relief. I knew that I needed to save some room to put Sticky Chewy Messy Gooey to good use. But after a couple of weeks of staying away from most sugar and other worldly treats, I decided that I had earned a chocolate treat. Isn't that what the gym is for?
These cookies will knock your socks off. Literally. They ooze so much chocolate flavor that your tastebuds will go into sensory overload. The combination of all three chocolates is make you rethink sex, clothes, television, books,or anything else important to you. THEY ARE THAT GOOD. Instead of being thin, crispy, dull and flat, these cookies are soft like brownies, almost cake-like. Normally I don't like cookies like this, but these are completely different. Their fluffy and light texture complements and enhances their rich and dark flavor.
I will admit that I was a bit scared that I had almost ruined the batch because I didn't finely chop the unsweetened chocolate nor did I properly mix melted chocolate with the rest of the batter. Instead of reading the directions, I just added the eggs and sugar straight into the chocolate which might prevent the ingredients from combining thoroughly but oh well. They still turned out amazing. Next time, instead of using milk chocolate chips I will use bittersweet chocolate chunks since I like things extra chocolatey, not just extra sugary.
These cookies were meant to be sandwiched with vanilla ice cream and my original purpose was the use my leftover peanut butter frosting. But I didn't because the cookies' shapes didn't turn out evenly enough. I like small, oreo circles for cookie sandwiches, and these didn't turn out that way, although cooling them in the fridge did help firm up the dough so they stopped spreading too much.
Instead of polishing off all these cookies on my own, I saved myself the potential of a sugar coma and brought these to the office for my coworkers birthday. Although the minute I handed them over, I wanted to take them back and run to the break room where I could devour the entire batch. But don't worry, I didn't.If you haven't purchased this book yet, well what are you waiting for?! Any proper sweet tooth baker and fellow chocoholic is required to add this to their collection.
Sticky Fingers Triple Chocolate Cookies
From Sticky Chewy Messy Gooey
Ingredients:
1/2 cup (1 stick) unsalted butter, at room temperature
1 cup granulated sugar
1 cup light brown sugar, packed
4 large eggs, at room temperature
2 teaspoons pure vanilla extract
¾ teaspoon baking powder
½ teaspoon salt
1 and ¼ cups all purpose flour
12 ounces semi-sweet chocolate, finely chopped
1 ounce unsweetened chocolate, finely chopped
1 and ½ milk chocolate chunks (I used store-bought chips)
1 and ½ cups semi-sweet chocolate chips
Confectioners sugar for sprinkling optional
Directions:
Preheat the oven to 350 degrees F. Line 2 baking trays with parchment paper and spray lightly with nonstick cooking spray.
Combine the 12 ounces of semisweet chocolate, unsweetened chocolate and butter in a microwave-safe bowl. Microwave, uncovered, on high for 1 minute. Remove from the microwave and stir completely until melted. If the mixture isn't completely melted, continue to microwave for 30 seconds intervals and stir until smooth.
In a bowl, beat together the eggs, sugars, and vanilla with an electric mixer set at medium speed until fluffy. Reduce mixer speed to low and beat in the melted chocolate mixture. Sift in the flour, baking powder, and salt and stir until just combined. Stir in the milk chocolate chunks and semi sweet chocolate chips.
Drop the batter into dollops onto the baking sheets at least 3 inches a part. Bake one sheet at a time, until te cookies are firm and have a glossy, crackled exterior similar to a brownie but at still moist inside, about 12 to 15 minutes. Remove from the oven and let cool completely on the baking sheets.
If you chose to indulge even more, you can make these cookies into ice cream sandwiches. When cookies are completely cool, sandwich with ice cream by gently spreading a ½ cup scoop of softened ice cream onto the flat side of a cookie. Top with a second cookie, flat side down, and press together gently. Store the finished sandwiches in the freezer until you finish with the remaining cookies. Serve immediately and enjoy!