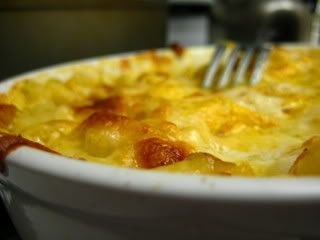 Even though I was raised in a Chinese home, my favorite meal growing up was the big blue box of Kraft Macaroni and Cheese. Bring on the teeny tiny noodles and cheese mix! I didn't care what was in it; all I knew was that when my mom brought out the blue box, I was in heaven. Walking home from school, I'd get so excited with the possibility that I'd be eating this cheesy junk food instead of chicken chow mien or won-ton soup. Crazy, but if I never ate another potsticker again, I think I would've happy.
Now that I am older (and sometimes wiser) I know that I should stay away from the boxed stuff. You can't get a way from the reports about what processed food is doing to our bodies. From the preservatives to the sodium, it's safe to say that I try and stay away from the fake stuff as m uch as possible now. But that doesn't mean that I have lost my endearing love for mac and cheese.
When I saw Deb post this recipe about a quick, simple, and classic macaroni and cheese dish, I was hooked. After searching long and hard for a recipe that took me back to the days when I would cut the crust off my sandwiches and sip Capri-suns outside after school, I was about to give up. Who knew that a classic all American dish could be made so many ways? Everyone has got their own additions, from bacon to chives, to bread crumbs to all kinds of cheeses.
Call me crazy, but I want my homemade mac and cheese to remind of the good stuff I'd eat when I was a kid. Simple and cheesy. And this recipe is just that. I like how the noodles were cooked with the milk in the oven. Any way to cut down my time boiling the water and waiting for the noodles to cook up is fine by me!
The milk, cottage cheese kept the noodles nice and tender, and my yummy Tillamook cheese melted beautifully. Next time, I think I will use an extra sharp cheese as I thought the dish could've used more cheesy flavor, if that's possible. In the recipes notes, it says to not use skim milk or lowfat cottage cheese, but that was all I had. Me being the lazy bum I am, I refused to go back to the store so I closed my eyes and hoped for the best, And you know what? I didn't mind using the lower fat ingredients. The cheese still melted beautifully and the texture of the sauce was just right.
Slap a bunch of greens and a slice of bread with a a dollop of butter, and I swear you will literally hear your childhood calling… Even my Chinese mother loved this stuff, and that's saying alot. I bet my mother cringed every time she brought out the blue box stuff, but she was definitely a fan of this take on mac and cheese.
I'm entering this dish in to Meeta's Monthly Mingle at What's for Lunch, Honey? This monthly mingle is all about comfort foods so go check it out if you are in dire need of warm and hearty meals.
Creamy Macaroni and Cheese
ala Deb from Smitten Kitchen who took it from the New York Times, 1/4/06
Ingredients:
2 tablespoons butter
1 cup cottage cheese (I used lowfat)
2 cups milk (I used skim)
1 teaspoon dry mustard
Pinch cayenne
Pinch freshly grated nutmeg (Deb note: I skipped this)
1/2 teaspoon salt
1/4 teaspoon freshly ground black pepper
1 pound sharp or extra-sharp cheddar cheese, grated (Deb note: I'm a big fan of Cabot extra-sharp, in the purple wrapper)
1/2 pound elbow pasta, uncooked.
Directions:
1. Heat oven to 375 degrees and position an oven rack in upper third of oven. Use 1 tablespoon butter to butter a 9-inch round or square baking pan.
2. In a blender, puree cottage cheese, milk, mustard, cayenne, nutmeg and salt and pepper together.* Reserve 1/4 cup grated cheese for topping. In a large bowl, combine remaining grated cheese, milk mixture and uncooked pasta. Pour into prepared pan, cover tightly with foil and bake 30 minutes.
3. Uncover pan, stir gently, sprinkle with reserved cheese and dot with remaining tablespoon butter. Bake, uncovered, 30 minutes more, until browned. Let cool at least 15 minutes before serving.
Yield: 6 to 8 servings.