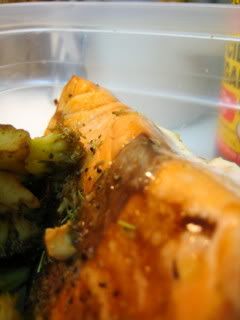 I'm way behind on this post but I wanted to share it because it is so easy. Perfect for a quick weekend night dinner before heading out on the town.
A couple of weekends ago, I was over at my friend's house, painting her room and moving furniture. Needless to say, both Saturday and Sunday night I came home exhausted. The last thing I wanted to to do was cook dinner; instead, I wanted to dive in to my carton of ice cream that was calling my name. But I had already planned on cooking this recipe, and the salmon lay waiting in my fridge. So I went with it, despite my fatigued state of mind.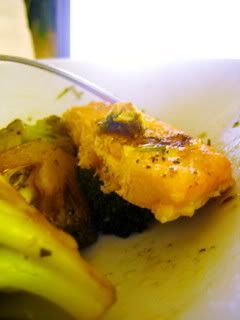 15 minutes later, I bit into the tender salmon and sighed with contentment. It was that good. I almost forgot to snap a picture of it since I was starving and hadn't eaten anything since lunch but I spared a few pieces. Even if you are tired or frustrated with work or just lazy, this recipe won't let you down and will fill you up. It's foolproof and you won't be sorry. Plus, it's super healthy, so you won't be breaking your diet with this dish.
I tossed in some olive oil with the salmon to oil that sucker up, and also roasted some eggplant. I sat back, watched the Golden Globes news conference, and enjoyed my dinner after a long weekend working hard and helping out my friend. What a way to start the week.
Roasted Salmon with Lime and Cilantro- makes 4 servings
From Martha Stewart
Ingredients:
4 (6 ounce) fillets salmon, skin on
Coarse salt and freshly ground pepper
1/4 cup fresh lime juice
2 tablespoons soy sauce
1 teaspoon sugar
1 tablespoon chopped fresh cilantro leaves
Directions:
Preheat oven to 450 degrees F. Arrange salmon in a shallow baking pan. Season with salt and pepper. Roast until no longer pink in the middle and flaky, 10 to 13 minutes. Using a flat spatula, remove fillets, leaving skin on the baking sheet.
In a small bowl, whisk together lime juice, soy sauce, and sugar; fold in cilantro. Spoon sauce over fish, and serve.