The big day has come, guys. The day where couples world wide unite for a long and savory meal filled with kisses and romantic looks across the table. And the rest of us are left out in the cold bitter realm of no-man's land, shoving our faces into pints of Ben and Jerry's while watching Bridget Jones' Diary.
But not me. I'm breaking from convention, ladies. Grab cupid by his damn wings and say "I will not allow myself to get suckered in to this cheesy Hallmark holiday and I will not feel bad about being all alone!"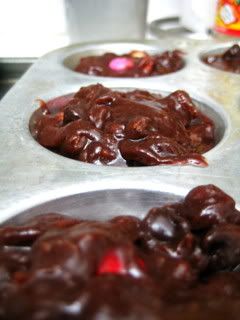 There. Feel better? Well if that little pep talk didn't work for you (who am I kidding, I'm no Oprah) then I suggest finding yourself a nice bottle of champagne, grabbing some of your closest friends, and making these rich and sinful brownies.
In grade school, I used to love this holiday. All the heart shaped cookies and he valentines day cards and the conversation hearts! I mean, as a kid it was the next best holiday, after Halloween of course. But as you get older, things start to take a turn for the worse. People start pairing off, leaving you high and dry on this holiday.
With no main squeeze in sight, it's easy to see how this day could be one of the most depressing days of the year. But I think that those who are single deserve even more TLC on this day. I mean, it's bad enough that we are reminded of our single status every day when we turn and see blatant forms of PDA everywhere. But to create a whole day dedicated to your marital status seems just wrong. So to everyone out there who is a fellow singleton, these Heart of Darkness brownies are my Valentines Day gift to you.
The thick and moist chocolate insides will melt even the blackest of hearts, I promise. In fact, it will probably bring you a warming sense of clarity which is especially needed on this highly-emotional day for singletons out there.
All of sudden, you will realize that you are probably better off alone then with that some stupid jerk who just calls you after 12am and bolts out of bed in the morning before you can brush your teeth. These brownies will make you forget about everything. Literally you will be speechless. Instead, your focus will solely be on the thick chocolate insides and crunchy crust of this brownie. Your train of thought will be ohmigod i need more gimme more now.
I'd been eyeing this recipe from Jill O'Connor's Sticky Chewy Messy Gooey for a while now, but hadn't felt the need to whip us these seemingly decadent brownies yet. But on a day like today, it seems necessary. The original recipe calls for a some added Snickers bars, marshmallows, and a caramel sauce to be drizzled on top, but I left those out, fearing that my digestive tract might not recover from the massive amounts of sugar. But I did one thing: I threw in some Valentine's Day M&M's, just to be festive. Plus, red and pink are my favorite colors.
The end result? One of the richest brownies I have every tried. The brownie reminded me of a molten cake because it was nice and fudgy on the inside. The unsweetened chocolate added some intense chocolatey flavor which I loved. Next time, I will use bittersweet chocolate instead of the semi-sweet chocolate chips though but either way you can't go wrong.
Go ahead, treat yourself to this delicious treat. And the best part is that if you polish off the whole batch, no one can rat you out :)
Heart of Darkness Brownies
Adapted from Sticky Chewy Messy Gooey
makes around 24 to 26 brownie cups depending on personal preference
Ingredients:
1 and ½ cups (3 sticks) unsalted butter
6 ounces unsweetened chocolate
2 and ¼ cups granulated sugar
1 cup firmly packed light brown sugar
6 large eggs, lightly beaten
1 tablespoon pure vanilla extract
1 and ½ cups all purpose flour
½ teaspoon salt
1 cup semi-sweet chocolate chips
1 cup of M&M's
Directions:
Position a rack in the middle of the oven and preheat to 350 degrees Fahrenheit. Spray two standard 12-cup muffin tins with nonstick cooking spray.
Melt the butter and unsweetened chocolate together in a small saucepan over medium-low hear and stir until smooth. Pour the chocolate mixture into a bowl and stir in the sugars, eggs, and vanilla. Sift in the flour and salt into the chocolate mixture and stir until just combined. Stir in the chocolate chips and the M&M's but do not overmix.
Fill each cupcake cup halfway with batter. Bake until the surface of the brownies has a glossy, crackled surface, about 20 minutes. Transfer to a wire rack to cool just enough to handle, then remove from the cupcake cups, running a knife around the edge of each brownie to loosen it from the cup. Let it cool completely on the wire rack. Serve immediately, or store for up to 3 days in a covered container.