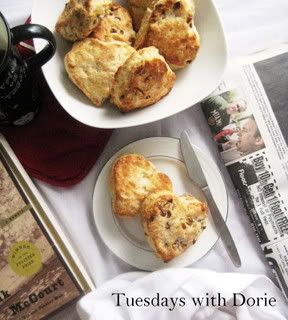 Biscuits really have no place in an Asian kitchen. My ancestors would scoff at the thought of biscuits. "Why eat biscuits when you could eat rice, the grain of our people?" they'd say. Or, at least that's what I'd imagine that they'd say.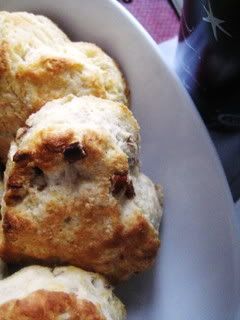 When I saw that Ashley of Eat Me, Delicious, a fantastic blog you all should check out, picked Pecan Sour Cream Biscuits for this week's Tuesday's With Dorie, I felt relieved that we weren't taking on some huge cake, but also mystified as I had never considered baking biscuits before. In my life. Ever. Strange, huh?
While I love me some scones and muffins, I've only encountered biscuits once in my life. They were slathered in thick, creamy gravy with bits of sausage piled around. I can remember the bits of bacon smashed up and sinking my teeth into the soft pillowy biscuit. Needless to say, it was one of the best breakfasts I had as a kid, and one that sadly was never repeated.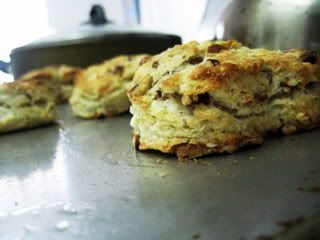 After reading the recipe, all of a sudden I got a huge hankering for a big plate of buttery biscuits mixed with crunchy pecans like the ones that I stuffed my face with years ago. Who had I turned into? Jesus, was I becoming Paula Deen?!Would I all of a sudden start jonesing for butter?!
Well, never fear, I did not go and start my own Southern kitchen fully equipped with masses of butter. But I did go and start working on these Pecan Sour Cream Biscuit. The pecans add a salty crunch to the soft bread and the brown sugar helps develop the flavors from the nuts. I worked with what I had in my fridge, having to substitute nonfat milk and reduced fat sour cream. I worried that the biscuits would lose their texture because of the loss of fat, but they came out better than ever. My mom enjoyed them as well, which is saying alot considering that she sticks to her peanut butter toast regimen.
After a rigorous week, I savored every minute of that Sunday morning, sitting down with these delicious biscuits, drinking my coffee and glancing at the paper. With the rain coming down outside and a big fleece blanket around me, I felt like I had gone back to that breakfast from years ago. Happy, content, and relaxed. I even took them to an Oscar dinner party later that night and these biscuits stole the show.
If you are hankering for some sweet and salty Southern biscuits, these are for you. Be sure the check out Tuesday's With Dorie to see what we're up to next week.
Pecan Sour Cream Biscuits
from Baking: from my home to yours
makes about 12 biscuits
Ingredients:
2 cups all-purpose flour (or 1 3/4 cups all-purpose flour and 1/3 cup cake flour)
1 tablespoon baking powder
1/2 teaspoon salt
1/4 teaspoon baking soda
1/4 cup (packed) light brown sugar
5 tablespoons cold unsalted butter, cut into 10 pieces
1/2 cup cold sour cream (I used reduced fat)
1/4 cold whole milk (I used nonfat)
1/3 cup finely chopped pecans, preferably toasted
Getting Ready:
Center a rack in the oven and preheat the oven to 425 degrees F. Get out a sharp 2-inch-diameter biscuit cutter and line a baking sheet with parchment or a silicone mat.
Whisk the flour(s), baking powder, salt, and baking soda together in a bow. Stir in the brown sugar, making certain there are no lumps. Drop in the butter and, using your fingers, toss to coat the pieces of butter with flour. Quickly, working with your fingertips (my favorite method) or a pastry blender, cut and rub the butter into the dry ingredients until the mixture is pebbly. You'll have pea-size pieces, pieces the size of oatmeal flakes and pieces the size of everything in between– and that's just right.
Stir the sour cream and milk together and pour over the dry ingredients. Grab a fork and gently toss and turn the ingredients together until you've got a nice soft dough. Now reach into the bowl with your hands and give the dough a quick gentle kneading– 3 or 4 turns should be just enough to bring everything together. Toss in the pecans and knead 2 to 3 times to incorporate them.
Lightly dust a work surface with flour and turn out the dough. Dust the top of the dough very lightly with flour, pat the dough out with your hands or toll it with a pin until it is about 1/2 inch high. Don't worry if the dough isn't completely even– a quick, light touch is more important than accuracy.
Use the biscuit cutter to cut out as many biscuits as you can. Try to cut the biscuits close to one another so you get the most you can out of the first round. By hand or with a small spatula, transfer the biscuits to the baking sheet. Gather together the scraps, working with them as little as possible, pat out to a 1/2-inch thickness and cut as many additional biscuits as you can; transfer these to the sheet. (The biscuits ca be made to this point and frozen on the baking sheet, then wrapped airtight and kept for up to 2 months. Bake without defrosting– just add a couple more minutes to the oven time.)
Bake the biscuits for 14-18 minutes, or until they are tall, puffed and golden brown. Transfer them to a serving basket.